Please subscribe to our blog to get our latest update ------->>>>>
Not long ago, "Maya Diab" was a neutral name to the Lebanese society.
I still remember the first time she appeared with her new look and back then I did not think even for once that she would become "that famous" and that despite her limited singing capacity she would create a unique space for herself.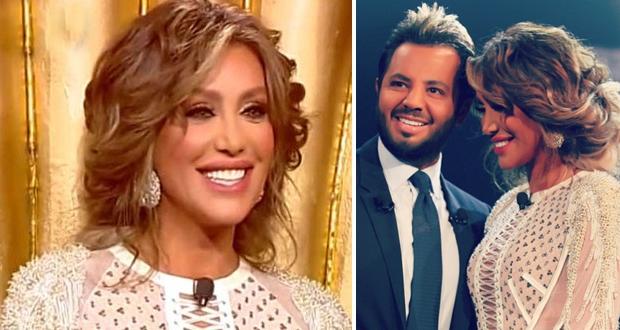 Maya Diab was Neshan's guest in his last episode of "wala te7lam", and for the first time I had the opportunity to see what lies behind her perfect appearance and to discover different sides of her personality.


One of the things you have to know about Maya is that she is not only a beautiful woman with a sexy body but she is also strong and smart. Anyone who watched her
episode
with Neshan can simply reach this conclusion.
For more than an hour, Maya was able to avoid Neshan's questions, questions that included her private life, her work, her conflicts with Bassem Feghali and lots of tricky subjects that only a smart person can avoid. However, at some point Maya was unable to hide her arrogance, and her unreachable ego.
When Maya first began to talk, she looked very artificial especially when compared to Neshan who is one of the most spontaneous talk shower in Lebanon. She was counting her words, replying shortly most of the time and smiling when she did not want to answer. Her gestures and her attitude reflected her high self-esteem.


Neshan's first tricky question was about Maya's marriage. Maya, who replied directly to Neshan's question about love in her life saying "ma fi gharam", insisted that she is still married and refused to talk more. Upon Neshan's insistence on this subject, she lost her temper a bit and claimed that her private life is not for discussion. Although, I totally understand Maya's concerns I do not really agree with her. Any famous person does not really own his private life. At the end, this is the bad side of being famous!


Maya's arrogance was featured the most when Neshan asked her about her competitors. Her cliché respond, "Of being in competition with every successful star", and her attitude gave me the feeling that she did not really think she has any worthy competitor. Moreover, I could not tolerate the part when she begun talking about her TV show. Any realistic person knows that people watch Maya's show to see her, and to see what she is wearing (or not wearing :P) .


In the last part of the episode, Maya showed a beautiful human side of her personality when she offered Mohamad, a handicapped 16 years old boy, a dream. She looked very honest and I really appreciated her gesture when she went down on her knees to kiss Mohamad.
Watching this interview of Maya Diab did not change my opinion toward her. I still find her over rated and I still think that she is not the kind of successful women I like to see in our society. She is beautiful, smart, and strong but she does not offer more. I am not against the success of attractive women as long as their appearance is not the only reason behind their fame. Till now, Maya didn't show a distinction in singing, acting or performing and I wonder if she will ever do!
Rihab